Cookpad… a company which is an absolute sensation in Japan, have gone global with their recipe sharing platform serving almost 100 million users who compose, share, bookmark and, most importantly, "cooksnap" great recipes for one another.
In January 2019, Context Studio joined Cookpad at their global headquarters in Bristol, to work for three months with product squads and their designers bringing human centred design and innovation to the heart of their product discovery process.
Designing great products is about more than design thinking tools… it's a mindset which needs to grow as part of the culture of any organisation. Cookpad are growing fast in Bristol, so the time was right to get some real work done bringing the Cookpad community into the heart of their work.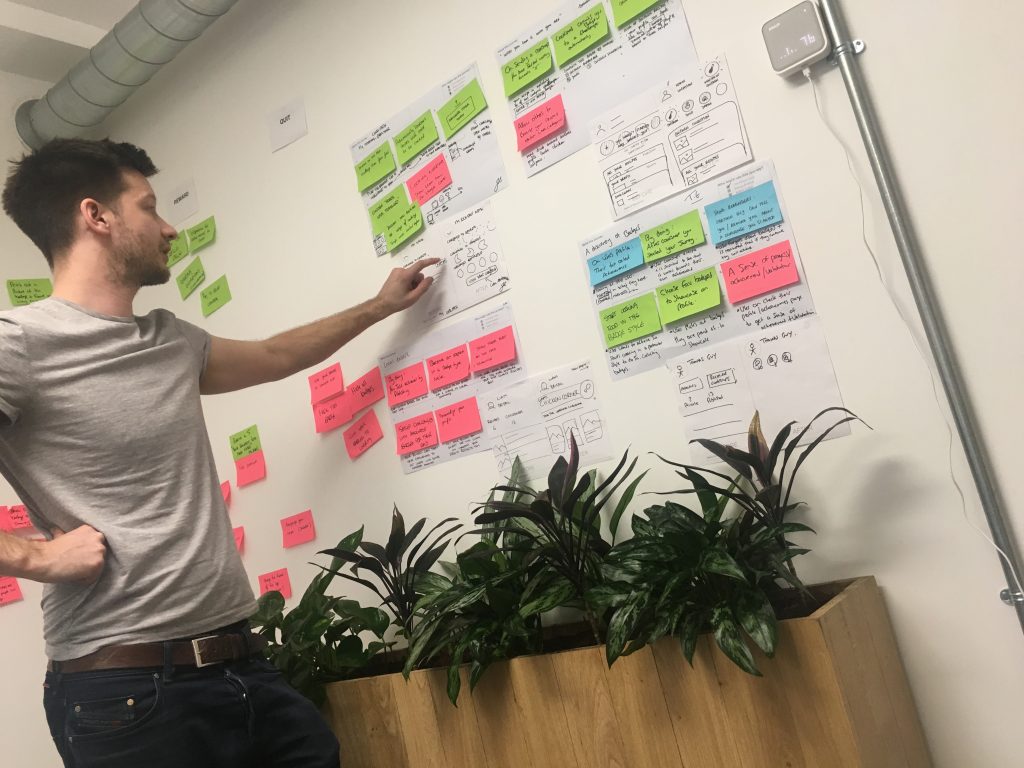 We began by conducting a range of interviews with a "horizontal and vertical" sample set from across the teams, and not just in Bristol. By horizontal, we mean across functions, and by vertical will mean people from top to bottom in the organisation. From founder, Aki Sano, right through to recent hires, and across multiple product squads and other functions, great conversations were had.
Armed with this insight it was possible to work with the Director of Product to make a decision as to which product squad to work with. We focussed on immediately beginning new practices in product discovery – operationally – iterating these ways of working for best fit, and demonstrating their value first hand within a team.
"We asked Context Studio to help us with codifying our Product Discovery and evangelise this process with our product squads. We had a good starting point but needed to build upon that to design a flexible but repeatable process that would allow our product teams to consistently solve the right problems in the most creative and impactful way. "

Richard Hiscutt, Global Product Design Lead at Cookpad.
Together, the product squad worked to research, capture and synthesise user research, and to quickly ideate as to hundreds of possibilities to reach a product OKR goal. Prototyping started straight away with a subset of those possibilities turned into paper sketches, cut-out prototypes and clickable tests.
These conversations around prototypes surfaced valuable insight and direction as well as possible refinements to the product directions being discovered.
But a prototype has three key components… an artefact, a question, and a person to ask it to, so ideas were demonstrated to users, either face to face using paper/card or screens, or remotely using online tools with which users could interact.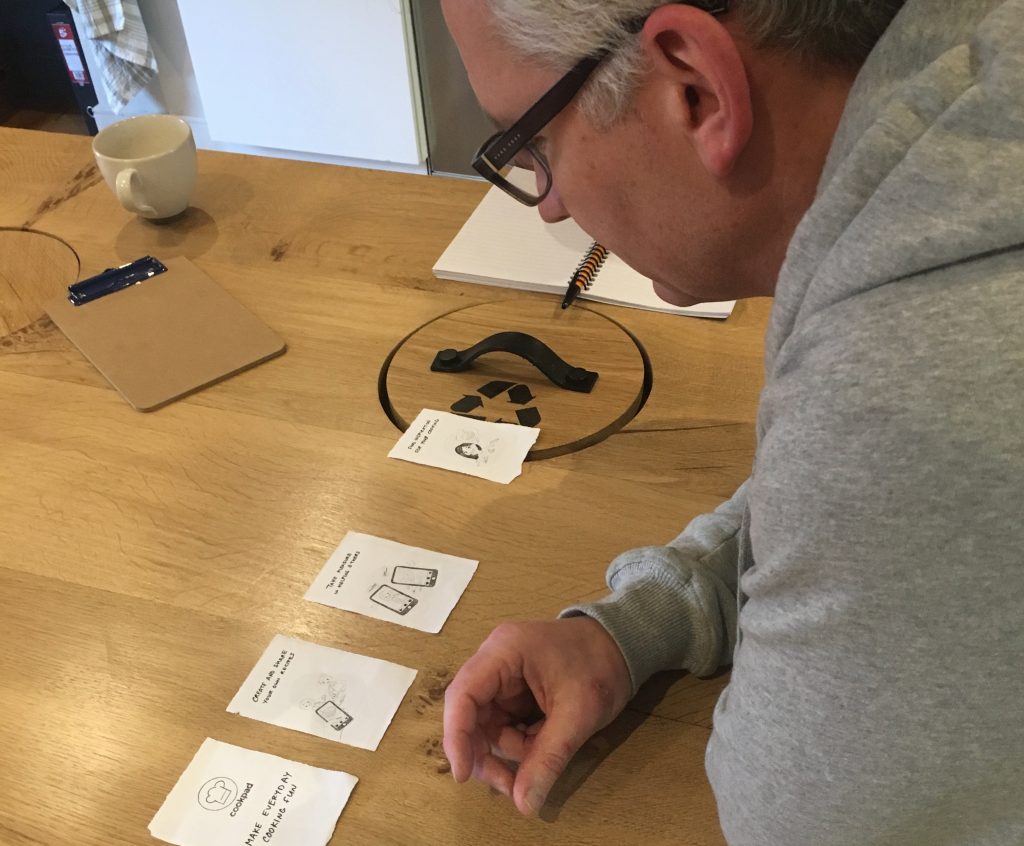 Over the course of the three months teams experimented and iterated upon many multiple features, using a collection of tools and methods which can now be repeated and moulded to help squads in future. Multiple product features were discovered, tested and deployed with the OKR goal in mind.
As opportunity allowed, some of the tools and methods were tried out by other squads, sometimes with support, sometimes independently, and led by their product manager.
"We had come to a point in ideation where we wanted to explore other ideas and potential directions before focussing in and committing to development. John directed us through a journey mapping exercise that allowed us to step away from the current focus and explore the problem with a holistic view of the product and the problem space. This helped us to learn quickly where we might find the most value for our users."

Thomas Guy, iOS Engineer at Cookpad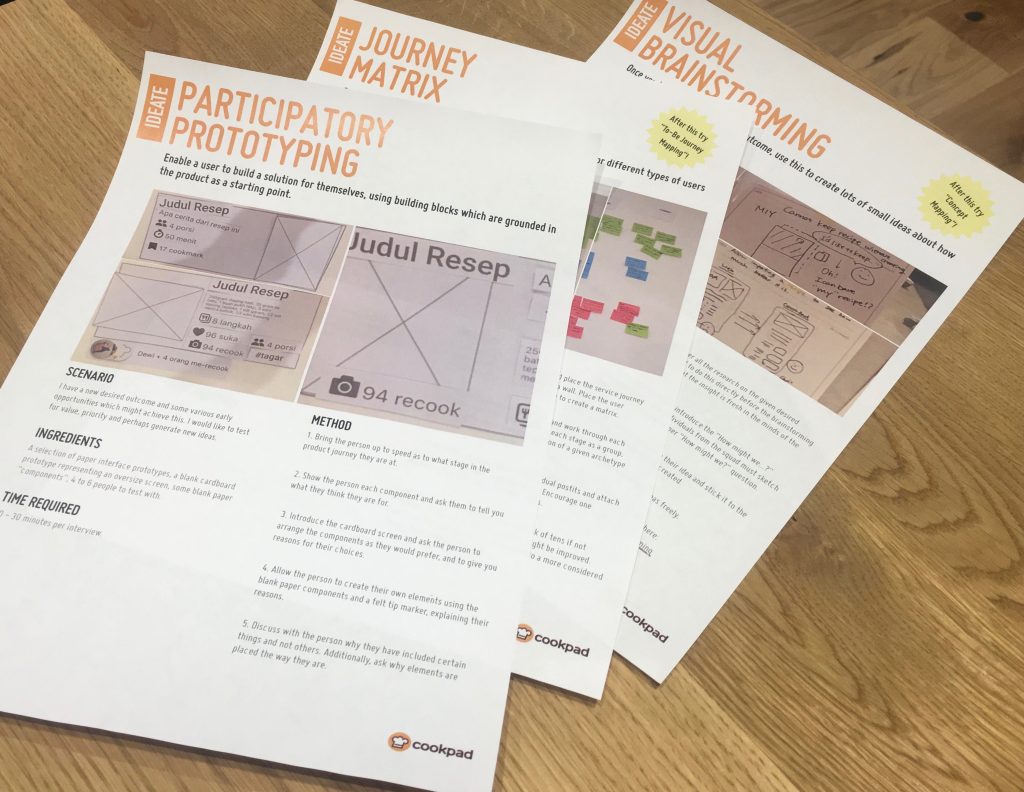 In the final weeks of our work together, a "Cookpad Product Playbook" was created and many of these important tools were documented on handy cards so that every product manager can be armed with a quick reference for their squad.
"I was impressed with how quickly John built a detailed and nuanced understanding of Cookpad and how we work as an organisation. This meant he felt part of the team, got stuck in and began making a positive contribution very quickly. His passion for user centric design and innovation is clear in everything he says and does. I'm looking forward to working together in the future."

Anthony Sullivan, Director of Product at Cookpad (Global)